We Wanted to Help the Troy Chapter the Same Way They Helped Lance
WHY I GIVE
Continuing the tradition of FarmHouse, remembering a loved one, giving back to something that changed your life…each day we hear a new reason you chose to make a gift to the FarmHouse Foundation. Share your reason by emailing us.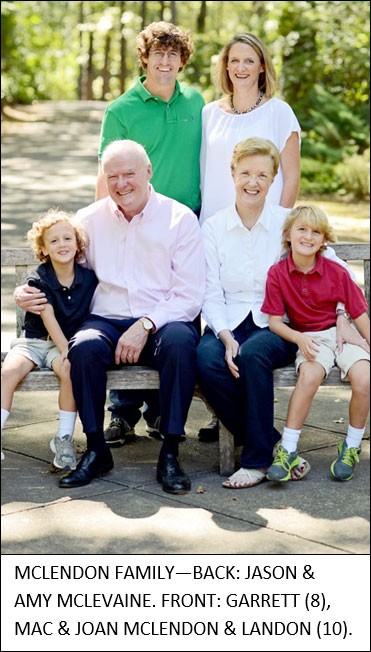 WE WANTED TO HELP THE TROY CHAPTER THE SAME WAY THEY HELPED LANCE
"Lance was such a good kid. He had a heart for ministry and would often use his vacation time to help with Vacation Bible School at his church," reflects Joan McLendon, Lance's mother. Lance McLendon (TR '95) was a charter member of the Troy University FarmHouse chapter.
"He loved FarmHouse and the fact that he could be a part of something wholesome and free from peer pressure," Joan remembers.
He was also involved with Campus Outreach and in the summer would often participate in the Beach Project, a Christian outreach program. One summer, when his family went to visit for a family weekend, they noticed that Lance didn't look well and had lost weight.
"I thought maybe he just wasn't eating well there, but when he returned home, he didn't get better," Joan said.
They took him to the doctor, and shortly thereafter, Lance was diagnosed with Crohn's Disease, a chronic inflammatory condition of the gastrointestinal tract.
College was a struggle for Lance, as he would become so ill that he would have to drop out for a semester at a time. In one 18-month period, he underwent three major surgeries.

"Lance's FarmHouse brothers were always great about keeping in touch with him when he wasn't at school," Joan said.
Lance persevered through the pain, surgeries and set-backs to graduate from Troy University with a degree in accounting. He had always wanted to go into children's ministry, but due to his illness, he could not get insurance on his own. His parents were able to keep him on their insurance if he worked with their family business, so he received his general securities license and began a career in the financial services industry.

On Jan. 29, 2001, nine years after he was diagnosed, Lance passed away from Crohn's disease at just 29 years old.
"After Lance died, I found myself asking 'why—he was such a good kid?' A family member reminded me that God needs good ones too. This is something that has stuck with me," Joan remembers.
When he died, his father, Mac, was named as the beneficiary of his life insurance policy. Not wanting to profit from the loss of Lance, the McLendons established the Lance Robert McLendon Foundation, and have used this money to help as many others as they can.
"We feel fortunate that we had Lance for 29 years. We wanted to make sure his legacy for helping young people lived on," Joan said.
They felt one of the ways they could do this was to support Troy University and the Troy FarmHouse chapter. They built a new classroom and established a scholarship in Lance's memory at Troy University.
Through the scholarship selection process, they had met and awarded scholarships to several FH members over the years. One year, after a scholarship brunch honoring past recipients, they were invited back to the chapter house for a tour.
Reflecting on that day, Joan said, "We had one of our grandsons with us, and they took him out and played basketball with him. To me, you take care of my grandchildren and you've won me over!"
After that day, they started looking at how they could help the Troy chapter the same way the chapter had helped Lance.
"We contacted Allison Rickels and asked what we could do for Troy. She has worked with us to help as many members of Troy as possible. We try to find ways to support every member of the chapter and make the day-to-day things easier for them," Joan said.
Over the past four years, the McLendon's have generously given over $33,000 to support the Troy chapter's educational and leadership needs, and it is their hope to continue to do so.
She added, "A month ago, three members came to dinner at our house to thank us for our support and present us with a special plaque. We were touched. As we were sitting on the porch with them, I knew that these were the men I wanted to be role models for my grandsons, Landon and Garrett. I want them to be aware of the values of these outstanding young men."
Lance's memory lives on in his family and, thanks to the generosity of the McLendon family, at the Troy FarmHouse chapter too.
Each time a young man receives a scholarship or attends a leadership conference, Lance's gift—his gift for serving young people—touches another life.