Three Generations Invest in Future FarmHouse Men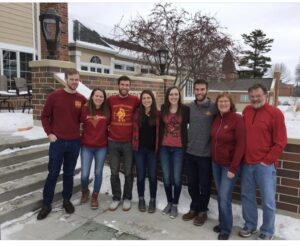 As a child in the 1930s, the late A. Corby Fichter, Jr. (Iowa State 50) was quiet, shy, and always kept to himself. He would use his rich imagination to play "Cowboys and Indians" by himself on his family's farm in rural southwest Iowa. Making friends was hard to do, especially when attending a one-room schoolhouse in a rural area. During the week, while in high school, he lived with an aunt to attend school in the nearby town of Shenandoah, Iowa. He was active in 4-H and FFA and spent weekends helping his parents farm. 
At 17, with his parents' encouragement, when he set off for college at Iowa State University. He first lived alone in an upstairs room next to a railroad track in Ames, Iowa, riding the city bus to classes and mailing home his laundry to his mom to wash and iron, Corby continued to be alone most days. 
BECOMING A LEADER
The first student club on campus Corby Jr. joined was Block & Bridle, which was familiar to him thanks to his time in 4-H. As a college freshman, he groomed and showed a hog in the 'Little International' sponsored by the club. It was there he was befriended by another member of the club, who had recently joined FarmHouse and invited him over to the chapter house. 
"This started my relationship with the FarmHouse men. My experiences in FarmHouse had a profound effect on my life," wrote Corby Jr. in a journal to his family 20 years ago. 
"For as introverted and quiet as my dad was, I don't know how he ever got into the chapter. Something clicked with a couple guys from Block & Bridle, and they asked him to join. We're so grateful he did," said his son, Corby Fichter, III (Iowa State 78). 
"I firmly believe Dad's leadership and things he did after college was because of FarmHouse," he added. "Before then, Dad had no clue about leading, being involved and how to be a part of organizations. FarmHouse changed him spiritually, socially, morally, physically and academically. He truly exemplified the values of the Fraternity. He learned how to lead as a quiet individual, made very close friends and thrived. The people he surrounded himself with in the chapter were outstanding and many went on to have impressive careers and incredible life stories. My dad became a well-known leader in our community and was successful in his farming career because of what FarmHouse did for him."
Corby Jr.'s involvement on campus picked up after joining FarmHouse, including living in the chapter house for three years and serving as treasurer, as well as participating in VEISHEA, Block & Bridle and scholastic honorary societies. 
A COMMITMENT TO SERVICE
In 1952, Corby Jr. graduated with a bachelor of science degree in animal husbandry and returned to work on his family's farm. In the summer of 1955, he met his future wife, Ayeleene, at a Farm Bureau event and they were married only a few months later.   
Corby Jr. and Ayeleene raised their five children near Randolph, Iowa, with farming and agriculture as the base of their lives. They grew their family farm, which their oldest child, and only son, Corby III, operates today as the fourth-generation owner. 
They prioritized involvement in their children's lives and contributed to the Randolph, Tabor and Shenandoah communities. They supported and invested time in 4-H, Farm Bureau, the Fremont County Fair Board, their church and the Wallace Foundation. Corby Jr. served on the Fremont-Mills School Board for several years. As a result, they were named "Farm Family of the Year" by the Omaha TV station, WOWT, and the Shenandoah Chamber and Industry.
When receiving the Shenandoah Chamber and Industry award, Corby Jr. commented, "We had so many people who influenced our lives that we've always felt we owe it to God to give back to the community."
After a life-long career in farming, deep community service, a love of family time as well as playing cards and finishing puzzles, at age 90, Corby Jr. passed away Aug. 23, 2021. 
"Although he was a quiet man, he influenced the lives of many inside and outside of his family with his loving manner, sense of humor, integrity, and strong relationship with God," said Corby III, at the time of his dad's passing. 
"Dad kept a scrapbook that we found after he died where he had kept all kind of pictures, programs, grade cards and many stories from college. Dad often had the biggest smile on his face in pictures with FarmHouse brothers," said Corby III.
FARMHOUSE FAMILY TIES
Corby, Jr.'s membership and involvement in FarmHouse spurred three generations of Fichters to join the Iowa State FH Chapter. Corby III joined in 1978 and his twin sons, Adam (Iowa State 12) and Austin (Iowa State 12), followed 34 years later. Their daughter, Heidi, later married Chris Mandt (Iowa State 15), who Adam mentored as his pledge dad in the chapter.  
Corby III attended Northwest Missouri State University for two years then transferred to Iowa State University where he met his future wife, Jean. She was a "FarmHouse Sister" and member of Alpha Phi, often coming over to FarmHouse for meetings, studying and socials. Corby III always made sure to walk her home at the end of the night when Jean visited the chapter house. 
Corby III said, "Two of the best decisions of my life were transferring to Iowa State and joining FarmHouse. The very best decision I made was marrying Jean, who was an important part of FarmHouse for me, too. I have countless favorite memories with my FarmHouse brothers from date parties to serenading and road trips to football games. These experiences along with the men in the chapter shaped my life significantly. My best friends and mentors of today are still many of those same brothers from over 40 years ago." 
In May 1980, Corby III graduated with a degree in agricultural business and began his career as a financial officer for the Federal Land Bank Association in Forest City, Iowa. Since then, he's had a 42-year career with Farm Credit Services of America, presently serving as Regional Vice President-Business Development for southwest Iowa. He continues to own and operate their family's farm. 
Corby III and Jean have been married for over 40 years and live in Shenandoah, Iowa. Jean graduated with a degree in home economics education. She worked for Principal Financial Group for a decade before raising their three children. During that time, she was heavily involved in church and homeschool activities. In 2017, Jean was elected to the Shenandoah Community School Board of Directors, where she served as president for four years. 
When sons Adam and Austin decided to attend Iowa State, several FarmHouse men including current chapter members attended their high school graduation party and offered them bids to join the Fraternity. 
"It was impressive to see these young men travel over two hours to come visit us and recruit them in-person to join," said Jean. "The boys already had many contacts in the chapter because of FH families we knew and didn't consider other schools because they knew their dad and grandpa's stories. They both played club baseball at Iowa State, lived in the chapter all four years and both served as chapter president. They were fortunate to receive scholarships from the FarmHouse Foundation, which we were grateful for. They thoroughly enjoyed their FarmHouse experience."
"Having Austin and Adam join FarmHouse is still one of the best days for me. I couldn't have been prouder," said Corby. "Our daughter, Heidi, always said if she had been a boy she would have been in FarmHouse. Instead, she married Chris, a FarmHouse alumnus, who also served as a chapter president."
Today, Adam and his wife, Marissa, and their two daughters live in Ames, Iowa. Adam works as controller for Longview Farms, a large farming operation owned by another Iowa State FarmHouse family. Austin and his wife, Jourdan, live in Gretna, Neb., with their daughter, and where Austin works as a financial officer for Farm Credit Services. Heidi and Chris live in Clive, Iowa, where Heidi is a horticulture teacher and Chris is an insurance officer for Farm Credit Services.  
Additionally, Jean's brother, Jim Barker (Iowa State 77), and two nephews, David Barker (Iowa State 16) and Robert Grandin (Iowa State 06), along with some extended family are FH men.
"FarmHouse Fraternity runs in both families and has had a tremendous impact on our families and extended families lives for three generations." 
In 2020, their family was honored as Iowa State University's Family of the Year, and notably over 25 family members on both sides have graduated from Iowa State, dating back to 1920.  
GIVING THROUGH SERVICE
For many years, the Fichters have been involved with the Iowa State FH Chapter, regularly attending Founders' Day, football games or chapter events. This spring, Corby III and Jean expanded their FarmHouse involvement by participating, mentoring a student, and helping sponsor the Power of 7 Seminar in Washington, D.C. 
"The chance to interact and network with current students and alumni from across the country was simply an awesome experience. The chance to learn from others both young and 'older' is something we all need in our present-day life experience," said Corby III.
This experience increased his interest in getting more involved with the Fraternity and in July he was elected to a four-year term on the International Executive Board (IEB).
"When I think of what 'Builders of Men' and 'Progress Shall Mark Our Every Step' means to me, and how it shaped what I have done and still do today, there is no question in my mind that I want to serve the best Fraternity in our country. I want to give back at least a small portion of what FarmHouse has done for me and our family. It is a privilege and an honor to serve on the IEB."  
CREATING A FAMILY LEGACY
In addition to their involvement, it was shortly after Corby, Jr.'s passing they decided to further invest in FarmHouse by permanently endowing a scholarship in his memory with the FarmHouse Foundation. 
"One important thing our family learned from Dad was a desire to give back and serve our communities and the organizations that helped him in life. We were taught to give back to the things that mattered in our lives, what made a difference, and to be thankful," Corby III said. 
"This scholarship gives us an opportunity to share with others what FarmHouse did for my dad, me, our kids, and really our entire family," he added. "That way we can reach other young men going to college and help to tell the FarmHouse story about how it changes lives."
"What impresses us most about FarmHouse men is their drive to make things better in whatever they do–whether it's family, community, career or wherever you spend your time. FarmHouse encouraged this drive in me when I was a student as well as the importance of building relationships and having mentors. I want to make sure that continues for future generations of FarmHouse men," said Corby III.
In spring 2022, the Fichter family made a six-figure gift to establish "The Fichter Family Scholarship Fund" in memory of Corby, Jr. to commemorate his membership, involvement and long-time support. The Fund will annually provide at least one academic scholarship to a student member of the Fraternity who can demonstrates how his personal growth and life has been positively changed because of his FarmHouse experience. Their first $5,000 scholarship will be awarded next fall for the 2023-24 academic year. 
"This was truly a family decision. We want to keep the tradition of FarmHouse going and help ensure the Fraternity experience doesn't go away," said Corby III. "The difference with this scholarship is recipients don't need to have the highest GPA, significant leadership involvement or standout internships. Those are important, but more so this scholarship is about positive life changes and personal growth as a FarmHouse member. Our Dad was different and a quiet leader, and we want to honor how much FarmHouse positively affected him." 
Corby III added, "There is absolutely no doubt in my mind FarmHouse has made a huge difference in my life and our family's legacy. One way we're giving back is by being a part of the Power of 7 Seminar, another is serving on the IEB, and the formation of this scholarship. These opportunities give us a chance to share what FarmHouse means and to tell our story. Everyone has a story to share, and we are very grateful FarmHouse is a significant part of ours."