Shawn Flynn (Minnesota 18) Hired as Assistant Director of Growth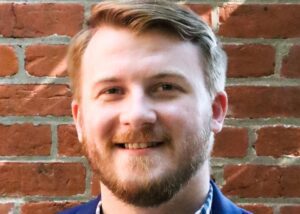 KANSAS CITY, MO. (July 1, 2021) — FarmHouse has hired Shawn Flynn (Minnesota 18) to serve as the Assistant Director of Growth. "I'm excited to have a strong leader, like Shawn, on staff that will be helping with growth and expansion," said Curt Herzog, Director of Growth. "His experience as a leader in his chapter will greatly benefit the expansion project and the new chapter at UT Tyler. Shawn will have a big role in meeting and building relationships with students, faculty, and staff to successfully establish a new chapter in Tyler. He will also have a hand in recruiting advisors that will continue to support our new group of men on campus. "
"I believe I have an ability to connect with people and work with others in attaining a common goal," Shawn said. "This is a very people-oriented business, especially on the growth and development end of things, and I think my ability to work well with and connect with others will help our chapters grow." 
Shawn is an alumnus of the University of Minnesota-Twin Cities, where he earned a Bachelor's degree in political science. While at Minnesota, Shawn was a member of FarmHouse Fraternity, joining in the Spring of 2018. At FarmHouse, Shawn served in many roles, including a term as the director of new member education as well as a term as chapter president. Shawn kept busy at Minnesota with his studies, activities and duties of FarmHouse membership, and work as a research assistant on campus.
"Having been a member of FarmHouse myself, I know how great of an organization this is," said Shawn. "My time as an undergraduate member was spent trying to give back and contribute to advancing my Fraternity's mission and ideals. With a staff position opening up at FarmHouse at the same time I was finishing up my undergraduate studies, it seemed like the perfect fit."
In his spare time you can find Shawn spending time with his family and friends, playing and watching sports, and traveling across the country. Though a native of western Wisconsin, Shawn now resides in Minneapolis, Minnesota. He will be working remotely from Minneapolis.
Shawn started working July 1. 
FarmHouse Fraternity is a collegiate men's fraternity founded in 1905 at the University of Missouri by seven men committed to building men through a four-fold development—intellectually, socially/morally, spiritually and physically. In its 116-year history, the fraternity has initiated 30,000 members and installed 52 chapters at major public research universities across North America. The Fraternity maintains a headquarters office in Kansas City, Mo. More information about the fraternity, including its history, educational programming and life-long membership affiliation opportunities is available online at www.farmhouse.org.