Savannah Freeman Lowery Hired as AD of Chapter Development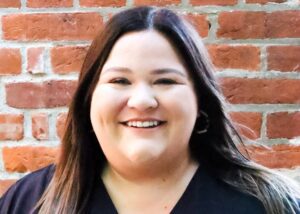 KANSAS CITY, MO. (June 21, 2021) — FarmHouse hired Savannah Freeman Lowery to serve as the Assistant Director of Chapter Development. "Savannah brings a wealth of knowledge to our team in her experience on campus working in orientation and as a chapter advisor," said Kahlin McKeown, Assistant Executive Director for Student Engagement. "I'm excited to see Savannah on our team and we're looking forward to in-person visits this fall."
Savannah is from Atlanta, Georgia and earned a B.S in public relations from Georgia Southern and a Master's of Education in higher education from the University of Arkansas.
"This position is exciting for me because I have always wanted to work with fraternity men," Savannah said. "I really believe our greek students are the future movers and shakers of the world, so I am happy to help guide them. I think I bring an energy and attitude to the team that will help keep us motivated."
Savannah worked at Texas Wesleyan University where she worked within the orientation programs office, relying on her strengths to create community and building relationships. She has previous experience in fraternity and sorority advising as well. Savannah is a member of Delta Phi Epsilon and still an active advisor.
Savannah currently resides in the Dallas–Fort Worth metroplex with her husband, Seth. They have been married since 2019 and have two dogs and 37 houseplants. Savannah enjoys water, especially the beach. She also enjoys reading, spending time with friends and family, cheering on the Atlanta Braves and the Arkansas Razorbacks and exploring new places.
"As for FarmHouse, I am excited to be part of a close-knit team who is invested in its students and community," Savannah said. "I am so excited to get to know the different chapters and groups I will be working with. Knowing that every chapter is different and each day will bring a new adventure is something I am really looking forward to."
Savannah began her role on staff June 21.
FarmHouse Fraternity is a collegiate men's fraternity founded in 1905 at the University of Missouri by seven men committed to building men through a four-fold development—intellectually, socially/morally, spiritually and physically. In its 116-year history the fraternity has initiated 30,000 members and installed 52 chapters at major public research universities across North America. The Fraternity maintains a headquarters office in Kansas City, Mo. More information about the fraternity, including its history, educational programming and life-long membership affiliation opportunities is available online at www.farmhouse.org.