The Power of 7 Seminar Hits Music City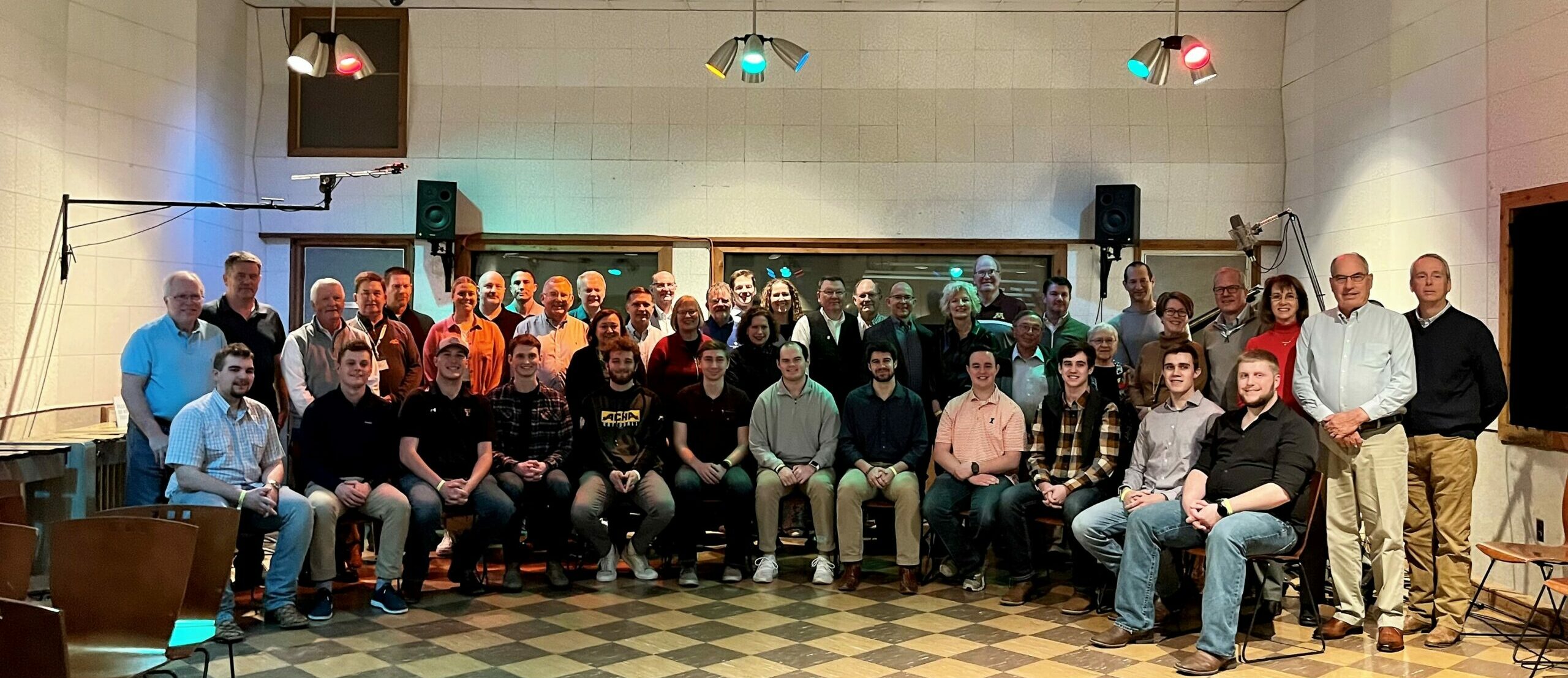 "The Power of 7 Seminar was an outstanding experience to get to know FarmHouse members — undergraduates and alumni, alike. The knowledge the alumni were able to provide, not only in regard to Fraternity matters, but also things like finances and relationships, was amazing to learn from. All of this happened in awesome Nashville, a city I have never visited and, for my first time, I had a blast," said Zealand Davis (Texas Tech 21) about his experience at the 16th Annual Power of 7 Seminar March 31-April 2, 2023, at the Loews Vanderbilt Hotel in Nashville, Tennessee. 
Transferring wisdom, sharing life lessons, networking, celebrating brotherhood and learning across generations is at the heart of the FarmHouse Foundation's Power of 7 Seminar, which brought alumni donors, Fraternity and Foundation board members, spouses and 12 FarmHouse undergraduate leaders from 12 FH chapters to Nashville, one of the nation's most dynamic destinations. 
"The Power of 7 is a wonderful chance to meet today's undergraduates and learn about their college and FarmHouse experiences and aspirations. It is very energizing to meet and hear from other FarmHouse men across North America," said Kent Horsager (Minnesota 81), a Seminar sponsor and mentor. 
The Seminar opened with a networking reception and welcome dinner at the Loews Vanderbilt Hotel. The evening continued with the Seminar's annual "Clayton Yeutter♰ (Nebraska 49) Lecture: Lessons in Leadership" in tribute to Clayton's illustrious career in public service and agriculture. This year's speaker was Dr. Douglas Christiansen, Vanderbilt University's vice provost for university enrollment affairs and dean of admissions and financial aid, who spoke about enrollment, changing demographics, rising costs of college, college students today and trends in higher education and his outlook for the future of education. Dr. Christiansen shared his perspective and leadership tips based on his long-time academic career.
Saturday's sessions included roundtable discussions on the topics of production agriculture, energy, inflation, the global economy, personal finance, trends in higher education, leadership development, mentorship and networking. These sessions were led by alumni facilitators and guided by questions from the undergraduate attendees. Attendees deliberated about many national and world challenges, as well as opportunities they face daily in their professional and personal lives.
"I am always amazed by the generosity, knowledge and expertise of our Power of 7 donors and alumni. Since the Seminar, I have shared multiple insights received during the Power of 7 with fellow alumni, family members and co-workers," said Foundation Trustee Charlie Oellermann (Nebraska 77).
  In the late afternoon, attendees enjoyed a private, guided tour of the historic RCA Studio B on Music Row. The studio is the birthplace to more than 35,000 legendary songs and more than 1,000 popular hits. Stories were shared about famous recordings in this historically important studio. William Bosch (Minnesota 20), treated the group by 'tickling of the ivories' on the studio's renowned baby grand piano also played by musicians like Elvis Presley.  
The day ended with a private thank you dinner at One Fourteen at the Wildhorse. Following dinner, Nashville songwriter John Hemingway (Iowa State 67) shared remarks about songwriting being a head, heart, hips and feet business.  
John grew up on his family's farm in Iowa, attended Iowa State University, had a long-time career in farm management, agribusiness and financial management before becoming a full-time songwriter. He writes image-rich country, pop and Americana songs and has written and co-written hundreds of songs with more than 80 songwriters and performing artists from four different continents. John shared his experiences of two different careers, his insights into the music industry, what lifelong learning means to him, and how FarmHouse has influenced his life's journey.
The Seminar concluded Sunday morning with advice and lessons learned from the alumni and spouses in attendance, and reflections from the undergraduates. Participants also had the chance to tour Vanderbilt University, visit the Country Music Hall of Fame and Museum and explore downtown Nashville. 
"What a wonderful experience! I was so impressed with my mentee and all the young men at Power of 7. It made me so proud of FarmHouse and to learn from other undergrads about their accomplishments and plans for post-graduation. The alumni and spouses in attendance are so humble despite their incredible careers, and I learned a lot from the Seminar topics they led. Best of all, Nashville was such a fun city to enjoy together," said Foundation Trustee Bryce Freeman (Iowa State 93), who stepped in as a mentor.  
The Power of 7 Seminar is a unique and long-running annual fundraising tradition. Alumni who make a gift of $10,000 or more to the FarmHouse Excellence Fund are invited to attend and mentor one of FarmHouse's top undergraduate leaders.
"The Power of 7 provides an opportunity to both the mentor and mentee to form a bond of brotherhood, oftentimes lasting a lifetime. FarmHouse's brotherhood is more than friendships; it provides a lifetime of mentorship and lifelong experiences. The Power of 7 is another outstanding way to help create those opportunities, " said Corby Fichter (Iowa State 78), Power of 7 sponsor and IEB member.
A very special thank you to the Power of 7 donors who generously helped make the Seminar experience possible: Eric Bymaster (Purdue 90), Corby Fichter (Iowa State 78), Gary Hansen (South Dakota State 72), Jim Hendrix (Colorado State 72), Kent Horsager (Minnesota 81), Noel Stuckman (Purdue 54), Jim Tobin (Iowa State 76), Dick Wittman (Idaho 68) and Kevin Wittrock (Oklahoma State 78).
Also, thank you to Larry Anderson (Kansas State 62), Bill Appelgate (Iowa State 65), Steve Davis (Oklahoma State 77), Wayne Engstrom (Washington State 60), Jim Herbert (Tennessee 61), Jim Hericks (South Dakota State 70), Jay Lockhart (Purdue 65) and Ron Vaske (South Dakota State 87) who were unable to attend, however, made generous gifts of $10,000 or more to the FH Excellence Fund in support of the Power of 7 Seminar.
 The undergraduates selected to participate included: Cross Allen (Kansas State 19), Austin Borchers (Ohio State 21), William Bosch (Minnesota 20), Jayden Brown (Purdue 20), Zealand Davis (Texas Tech 21), Jack Dobbs (Missouri 20), Connor Domonoske (South Dakota State 19), Ryan Herren (Iowa State 19), Nolan Jackson (Alberta 20), Simon Kroll (North Dakota State 20), Brodee McCormick (Illinois 20) and Garrett McKeon (Troy 21).
Power of 7 sponsor Noel Stuckman (Purdue 54) said, "Meeting the 12 FarmHouse mentees and getting to know them restores my faith in the future. They bring many talents and capabilities, which will serve them and others well in the future."