Ohio State Scholarship Dinner 2022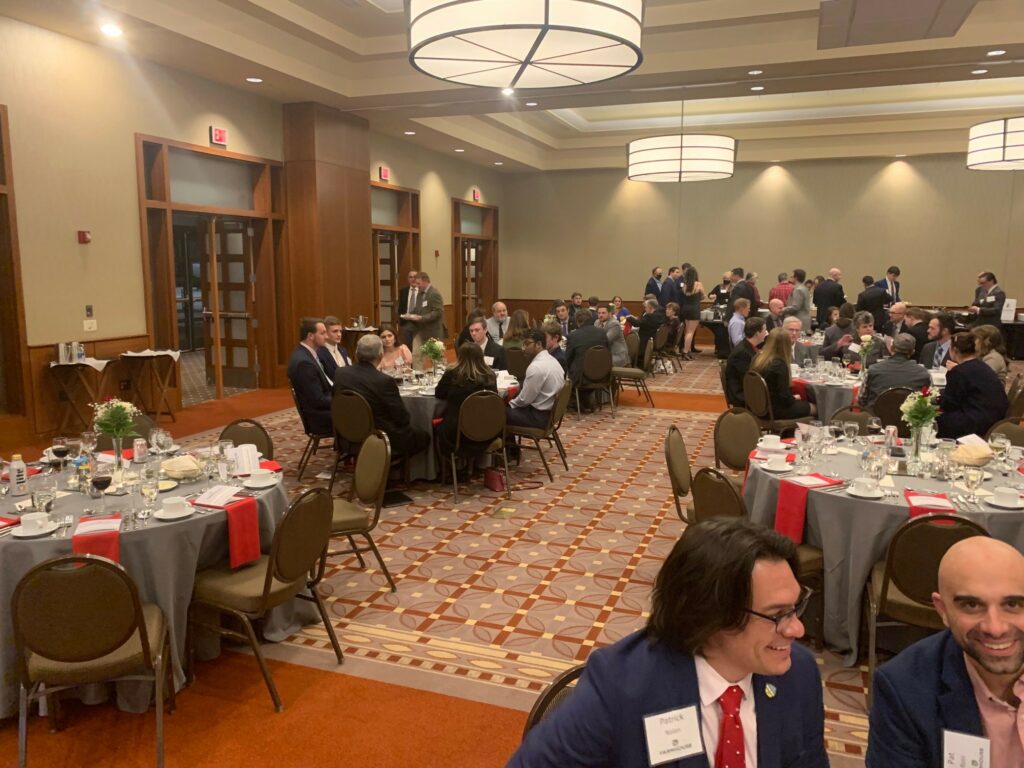 The Eighth Annual Ohio State FarmHouse Foundation Council Scholarship Banquet was held on Saturday, January 24, 2022 at the Blackwell Inn on the OSU Campus with over 90 attendees. The evening included dinner, scholarship recipient recognition and a tribute to long time member and Charter Foundation Council Member, Jim Leonard '60, who passed in 2021.
Observing all Covid guidelines, we were able to meet in person and acknowledge the recipients of the scholarships but also those whose memory we honor. The evening's activities were also broadcast over Zoom®.
Two new Endowed Scholarships were announced during the banquet: The Larry Hageman Master Builder ATZ|FH Endowed Scholarship and The Mark Andrew Sommers Memorial Agricultural Scholarship, both will be available for the 2023 Scholarship Banquet. We now have ten endowed scholarships to benefit our Active Chapter Members and four Annual Scholarship passthroughs. Over $9000 was awarded for the 2021-2022 Academic Year.
The highlight of the evening was the presentation lead by Master Builder Larry Hageman announcing the Newest Endowed Scholarship in memory of his grandparents, Herman and Anna Hageman.
It was truly a fine evening of fellowship over dinner, the program and concluding the evening with socializing, live music, including piano and a string quartet.
Scholarships:
Endowed Scholarships
Donald and Martha Fogg ATZ Scholarships – Jonathon Hoorman and Tyler Zimpfer
John Leonard Scholarships – William Gase, Jr. and Joseph (Manny) Heilman
Beverly Mae (Baish) Hageman Memorial Scholarship – Joseph (Manny) Heilman
Dorothy Hageman Staffeldt Memorial Scholarship – Robert Bench
Delbert Herman Hageman Memorial Scholarship – James (Jim) Moore 
Clara Hageman Jackson Memorial Scholarship – Kenton Dresbach
Bob and Joan McCoy Memorial Scholarship – Austin Borchers 
John J. Torres Chapter Officer Scholarship – Tyler Zimpfer
Annual Scholarship Passthroughs
James E. Leonard Scholarships – Grant Lach and Lane Heil
Doug Tenney Scholarship – Austin Borchers
The Patrick Nolan Leadership Scholarship – Grant Lach