Macee Hammack Joins FarmHouse Staff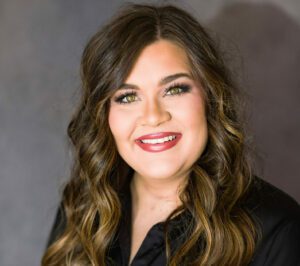 KANSAS CITY, MO. (April 6, 2022) — FarmHouse has hired Macee Hammack to serve as the Director of Communications. "Macee is bringing great experience with a keen eye for photography and design," said Cody Cramer, Assistant Executive Director of Communication and Alumni Engagement. "Having previously worked with Macee, I believe her skills will help elevate the FarmHouse brand. Macee has a strong agricultural background which I believe will aid in her role with FarmHouse."
Macee is from Leedey, Oklahoma and earned a B.S. in agricultural communications from Oklahoma State University.
"I'm excited to work with a dynamic organization that is invested in building up exceptional leaders." Macee said. "I am also looking forward to doing more graphic design work and flexing my creativity in that aspect."
Macee has extensive experience in writing and design work. However, her true passion is as a freelance photographer and videographer. She has her own business, Macee Hammack Photography, where she documents weddings and other special events. Most recently, she has served as a public affairs specialist for the Natural Resources Conservation Service for the USDA. Before this role, she interned for the American Farmers and Ranchers – Oklahoma Farmers Union, and as a social media intern for the Oklahoma City Thunder.
Macee currently resides in Stillwater, Oklahoma and is preparing to be married this May to her fiancé, Dillon. In addition to her business, Macee is an Oklahoma girl who loves red dirt music and spending time with her family. She also enjoys CrossFit workouts.
Macee will work remotely in Oklahoma and joined the team on April 6. 
FarmHouse Fraternity is a collegiate men's fraternity founded in 1905 at the University of Missouri by seven men committed to building men through living out our tagline in everything they did, progress shall mark our every step. In its 116-year history the fraternity has initiated 30,000 members and installed 52 chapters at major public research universities across North America. The Fraternity maintains a headquarters office in Kansas City, Mo. More information about the fraternity, including its history, educational programming and life-long membership affiliation opportunities is available online at farmhouse.org. 
###