Kyle Hickman Hired as AD of Education & Leadership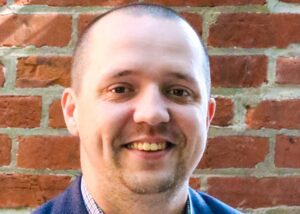 KANSAS CITY, MO. (Apr. 19, 2021) — FarmHouse has hired Kyle Hickman to serve as the Assistant Director of Education and Leadership. "Kyle will be an asset to our team as we work to align educational programs with strategic initiatives and build on our current offerings for students and chapters," said Kahlin McKeown, Assistant Executive Director for Student Engagement. "I'm excited to not only have in-person programs again, but have someone on the team who will thoughtfully manage and execute those educational opportunities."
Originally from Michigan, Kyle earned his Bachelor of Arts degree from Lycoming College (Williamsport, PA) in sociology/anthropology in 2010. After serving two years as an Educational Leadership Consultant for the Phi Kappa Psi Fraternity, he moved to Texas and earned a Master of Science degree in higher education with an emphasis in college teaching from Texas A&M University-Commerce. 
"I sought this role because FarmHouse has a great reputation, y'all are doing exciting work in the interfraternal space, and this position provides the opportunity to work with a great team developing programming and resources for Fraternity men," said Kyle. 
Over the past six years, Kyle has served as a campus FSL advisor at Quinnipiac University (Hamden, CT), the Senior Director of Communications at Phi Kappa Psi Fraternity Headquarters, and most recently, the Senior Director of Member Development at Phi Kappa Psi. Under his leadership, Phi Kappa Psi was awarded three Laurel Wreath Awards by the North-American Interfraternity Conference (NIC) for exemplary fraternity programming. 
Kyle is also very actively involved in the fraternity and sorority community. He is a lead facilitator for the Undergraduate Interfraternity Institute (UIFI) and the NIC's key programs (LAUNCH & IMPACT), an interactive workshop facilitator for CAMPUSPEAK, delivers the Alcohol Skills Training Program (ASTP) for members of Alpha Chi Omega and Kappa Kappa Gamma, volunteers for his undergraduate chapter as a New Member Education Advisor, serves as the Vice Chair for Lycoming College's Alumni Council for Fraternity & Sorority Life, and is a Head of Family for a local nonprofit in Baltimore called Thread.
He currently resides just outside of Baltimore, Maryland with his partner, Kelsey, their dog and two cats, and spends his free time playing hockey and baseball, watching movies, attending film festivals, traveling, volunteering, and blogging. 
"More than anything, I look forward to meeting the undergraduates, key alumni, and the International Headquarters staff," he said. "The relationships are very important to me. We have the potential to build something with enormous impact for the organization." 
Kyle will begin his role on staff June 2.
FarmHouse Fraternity is a collegiate men's fraternity founded in 1905 at the University of Missouri by seven men committed to building men through a four-fold development–intellectually, socially/morally, spiritually and physically. In its 116-year history the fraternity has initiated 30,000 members and installed 52 chapters at major public research universities across North America. The Fraternity maintains a headquarters office in Kansas City, Mo. More information about the fraternity, including its history, educational programming and life-long membership affiliation opportunities is available online at www.farmhouse.org.