Justin McCormick (Arkansas 11) Joins Staff as Director of Alumni Engagement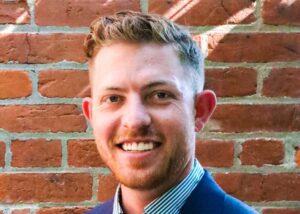 KANSAS CITY, MO. (June 30, 2021) — FarmHouse has hired Justin McCormick (Arkansas 11) to serve as the Director of Alumni Engagement. "Justin brings tremendous experience related to alumni engagement," said Cody Cramer, Assistant Executive Director of Communication and Alumni Engagement. "As an alumnus member of our Arkansas chapter, Justin has FarmHouse knowledge and familiarity with our current alumni outreach. I look forward to Justin helping us boost our engagement and creating an everlasting experience for our alumni members."
Justin is from Altus, Arkansas and earned a B.S in journalism from University of Arkansas and a Master's of Education in educational leadership and policy analysis from the University of Missouri.
"I have always had a passion for working with greek students," Justin said. "Although I have worked in many areas in higher education, I am drawn to areas that focus on leadership development and growth through education. This position will allow me to work directly with alumni and build these connections as students become professionals in their field of study."
Justin has experience in student orientation, transition, parent and family programs, fraternity and sorority life, and advancement and alumni engagement. Most recently, he has served as the Associate Director of Alumni Engagement at University of the Ozarks. Justin is an alumnus of the University of Arkansas Chapter of FarmHouse. He was initiated in 2011. 
Justin currently resides in Coal Hill, Arkansas with his husband, Jerred. They have been married since 2018 and have a son, Hayden, three dogs, and one cat. Justin enjoys the outdoors, remodeling his house and traveling to new places. He also enjoys spending time with family and cheering on the Arkansas Razorbacks and Mizzou Tigers.