International Executive Board Directors and Officers Slate Announced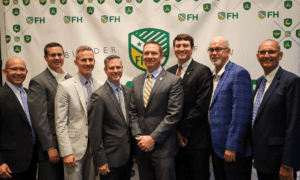 In accordance with FarmHouse bylaws, the International President named five alumni to the Nominations and Elections Committee in October 2021. The committee, chaired by Brent Bible (Purdue 93), also included Brian Hogue (Texas A&M 05), Lee Murphy (Auburn 80), Patrick Robinson (Kentucky 98) and John Torres (Ohio State 02). The committee worked over a period of eight months to solicit, cultivate, interview and recommend a slate of individuals for consideration by Conclave for appointment as directors to FarmHouse Fraternity International Executive Board (IEB).
The committee worked through a list of men who either expressed interest or were nominated by a peer. The committee specifically looked for alumni who had a strong FarmHouse experience at the chapter and/or alumnus level, lived a life congruent with our values who had significant executive-level work experience, who had served on non-profit boards and who had led change management initiatives. The Nominations and Elections Committee believe this man, along with those who will continue to serve on the IEB, are prepared to lead FarmHouse over the next biennium.
Newly slated director to a four-year term (2022-2026):
Steve Robisky (Illinois State 83) owns and operates Northfork Kennels with his wife, Michele. They are a licensed kennel raising German Shorthaired Pointers and Miniature Schnauzers as well as boarding and training for all breeds. He recently retired from John Deere in November 2021 after a 31-year career with the company.
In addition, they own and operate Robisky Farms, approximately 700 acres of farmland. Steve is a conservationist who devotes his time and effort to managing his property and others for the enhancement of wildlife, clean water, and clean air. He also does a fair amount of custom prairie and USDA Conservation Reserve Program (CRP) maintenance for others.
He is an avid upland bird hunter who can frequently be found chasing his German Shorthairs over the prairie in the fall. He's a lifetime member, officer, and inductee of Pheasants Forever Hall of Fame.
His wife is a Director of Financial Reporting for TransAmerican Life Insurance and has been with TransAmerican for more 25 years.
Together, they have three daughters, Anna, a 2021 Iowa State graduate who works for John Deere in Supply Management and is an NFL Cheerleader with the Tennessee Titans; Aimee a senior in the School of Design at Iowa State University; and Marissa an incoming freshman in the School of Engineering at Iowa State University.
Directors returning for a second four year term (2022-2026):
Eric Bymaster (Purdue 90) Eric serves as the Associate Vice Chancellor for Finance at Vanderbilt University. Eric's responsibilities include treasury, debt and cash management, financial planning and analysis, developing the annual university budget, the university's capital plan, overseeing athletics finance and the finances of the 10 academic schools, and the vice-chancellors' financial operations. Prior to Vanderbilt, Eric spent 15 years at Emory University in Atlanta, Ga. His most recent position was Associate Vice President for Finance & Operations in the Division of Campus Life. Before Emory, Eric spent seven years at Purdue University and Purdue Research Foundation, in West Lafayette, Ind. in a variety of roles including managing commercial and residential real estate as well as serving as a business and contracting officer in the School of Engineering and School of Agriculture. Eric received his bachelor's degree in business management from Purdue University's Krannert School of Management and earned a master's degree in higher education administration also from Purdue University. He joined the Fraternity Board at the 2018 Conclave and serves as vice president. Eric also serves on the board for Boys & Girls Clubs of Middle Tennessee. He lives in Nashville, Tenn.
John Foltz (Ohio State 79) has been Interim Associate Director of the Farm Financial Management and Policy Institute, in the College of Food, Agricultural and Environmental Science at the Ohio State University (OSU) since fall, 2021. He previously served as Chair of the Department of Animal Sciences at OSU from 2017-21. Prior to his service at Ohio State he served as Special Assistant to the President for Agricultural Initiatives at the University of Idaho and had previously served there as Dean of the College of Agricultural and Life Sciences for four years and as Associate Dean for Academic Programs for eight years.
Professor Foltz received his bachelor's and master's degrees in agricultural economics from Ohio State University. Foltz worked for six years as a district manager for Ralston Purina in Ohio and Pennsylvania marketing livestock feed and animal health products. Subsequently, he received his Ph.D. in agricultural economics from Purdue University and was at the University of Idaho for 26 years. As an undergraduate at Ohio State, he was a member of Alpha Zeta Fraternity, now FarmHouse Fraternity at Ohio State. John and his wife Barbara have two sons — John (Ohio State 02) and James (Idaho 07).

Greg Ibach (Nebraska 81) is the Under Secretary-in-Residence at the University of Nebraska Lincoln's Institute of Agriculture and Natural Resources. During the Trump Administration, Greg served as the U.S. Department of Agriculture (USDA) Under Secretary for Marketing and Regulatory Programs. Prior to joining USDA, Greg led Nebraska's Department of Agriculture for 13 years, making him the longest serving director in the organization's history. Greg served as president of the National Association of State Departments of Agriculture. He is an inductee of the Nebraska Hall of Agricultural Achievement and honored with the Service to Agriculture Recognition from the University of Nebraska-Lincoln. Greg earned his Bachelor of Science Degree in Animal Science and Agricultural Economics from the University of Nebraska. He and his wife, Teresa, have three grown children, Evan (Nebraska 11), Alec (Nebraska 11) and Emily. With the help of his family, he and Teresa continue to maintain a cow/calf and grain operation near Sumner, Neb.

Directors continuing their first term (2020-2024):
Brian Fenimore (Missouri 85) graduated from the University of Missouri in 1988 with a degree in Agricultural Economics and received a JD from the University of Michigan Law School in 1990. Brian became an active FarmHouse member on April 21, 1985, and served as Social Chairman and President of FarmHouse while at Mizzou. Brian was appointed by the United States Court of Appeals for the Eighth Circuit to become a United States Bankruptcy Judge for the Western District of Missouri on August 31, 2017. Brian previously led the bankruptcy and creditors' rights practice at Lathrop Gage LLP (now LathropGPM) for more than 20 years, appeared in cases throughout the United States, and served on the firm's Executive Committee for several years. Brian became the Chief United States Bankruptcy Judge for the Western District of Missouri on January 1, 2020, and recently presented a program on Chapter 12 Farm Bankruptcies to all U.S. Bankruptcy Judges. Brian and his wife, Lorna, both grew up on farms in northwest Missouri and currently live in Kansas City, Missouri. They have two children—Rachel (completing her residency in family medicine) and Will (a StuMo campus minister at Mizzou).

Joe Stephens (Missouri 93) serves as the Senior Assistant Dean and Director over the Working Professional and Executive MBA Programs at the McCombs School of Business for the University of Texas in Austin. He has worked in this role since 2014.
Joe graduated with a degree in Agricultural Education in 1996, a M.A. in College Student Personnel at Bowling Green State University in 1998 and an MBA from Washington University in St. Louis in 2005. As an undergraduate, Joe served on the Mizzou IFC and was the Homecoming Parade emcee. He also worked for FarmHouse International Fraternity as the Director of Expansion and Growth from 1999-2001. He has spent the majority of his professional career devoted to higher education, with a brief stint in Brand Management at Nestle Purina. Before his current institution, Joe served in assistant director and director roles at Washington University in St. Louis and at Mizzou as Assistant Dean of MBA Programs with the Trulaske College of Business. Joe, his wife Cheryl and two daughters live in Austin, Texas.

Directors continuing a second term (2020-2024):
Judson Ricks (Troy 07) is the Controller for High Level Marketing, a national digital marketing agency recognized as one of the fastest growing private companies in the nation by Inc 5000. Prior to his current role, Judson spent time in public accounting, specializing in Governmental and Nonprofit Accounting for Jackson Thornton and Co., a public accounting firm in Montgomery, Alabama.
Judson graduated with his Bachelors of Science in Business Administration in 2011, and in 2012 completed his Masters of Business Administration with a focus in Accounting. During his time as an undergraduate member, Judson served in the executive leadership roles of Secretary and President. Judson was selected as FarmHouse International Outstanding Chapter President of the Year after helping the Troy Chapter capture its first Ruby Cup in 2009. He was also the recipient of the Chapter's Doane Award and was chosen as the Order of Omega Greek Man of the Year in 2010.
Judson was elected to the International Executive Board in 2016, where he currently serves as Treasurer. Judson and his wife, Robin, and daughters, Evelyn and Alice, reside in Montgomery, Alabama.

Eric Steiner (Purdue 98) serves as American Forest & Paper Association Vice President of Government Affairs. Steiner leads the paper and wood products industry's legislative agenda and drives advocacy efforts before Congress, the Administration, and key state governments.
Prior to AF&PA, Steiner worked in Government Affairs for Elanco Animal Health and Kraft Foods, served as senior professional staff for the U.S. Senate Committee on Agriculture, Nutrition, and Forestry, served as a senior executive political appointee at USDA, helped lead government affairs for the National Association of Wheat Growers, worked as a law clerk at the U.S. Election Assistance Commission, and served as a Bill Emerson National Hunger Fellow with the Congressional Hunger Center.
Steiner earned a Bachelor of Science in Agricultural Education from Purdue University, a Juris Doctor from the George Mason University School of Law, and a Certificate of Management Excellence from the Harvard Business School. He lives in Alexandria, Virginia with his wife and their two children, serves on the FarmHouse International Executive Board and the Congressional Hunger Center Board of Directors, and freelances as a portrait, family, and wildlife photographer.
And as officers for a two-year term…
Eric Bymaster (Purdue 90), president
Joe Stephens (Missouri 93), vice president
Judson Ricks (Troy 07), treasurer
Fraternally,
Brent Bible (Purdue 93)
Chair, Nominations and Elections Committee
fhhq@farmhouse.org