Hilbrenner Named Outstanding Advisor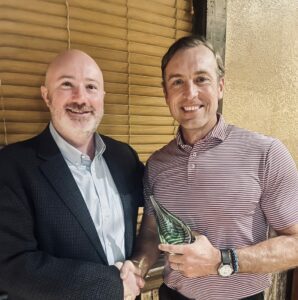 Jeff Hilbrenner (Missouri 97) has been selected as the 2022 recipient of the LeTourneau Outstanding Advisor Award. Jeff received his award in front of the chapter and numerous alumni, friends and family on September 26, in Columbia, Mo. 
"Thank you for honoring me with the LeTourneau Award," said Jeff Hilbrenner. "I don't feel worthy, but gladly accept on behalf of all volunteers who work hard to make FarmHouse special."
Established in 2009, the Outstanding Advisor Award was first given in 2010 by the International Executive Board to Dr. Duane LeTourneau (Minnesota 44), in recognition of his 53 years of service to the Idaho Chapter as an advisor, having served the chapter since day one. Duane helped establish the chapter when he arrived on the Moscow, Idaho campus in the mid-1950s as a young professor in the college of agriculture. He was the chapter's Founding Father and was an ever-present figure in the chapter – as friend, brother, counselor and advisor. 
Much like Dr. LeTourneau, Jeff has spent countless hours assisting the Missouri chapter. He was instrumental in their return, during COVID, in the fall of 2020. These incredible efforts were realized when nearly 50 men were initiated in the first year back on the University of Missouri campus. Jeff attends weekly meetings with members to provide guidance and wisdom to the chapter. 
"Having Jeff as an advisor has benefited the chapter tremendously and I have taken a lot from him myself," said past chapter president J.R. Adkins (Missouri 20).
"It has been incredible having Jeff help lead the chapter back as we have re-established the group on campus," Adkins said. "He has had a lot of answers to the obstacles we have faced. His leadership and guidance goes above and beyond expectations and the impact he has made is seen by everyone."
The award is given to an advisor, regardless of FarmHouse affiliation, who has exhibited a "…sacrifice of time, pleasures, and comforts" for the betterment of FarmHouse Fraternity.
"When fraternity is done right, there is no better college living and learning environment for young men," said Hilbrenner. Mizzou FarmHouse is striving to do fraternity right."
FarmHouse Fraternity is a collegiate men's fraternity founded in 1905 at the University of Missouri by seven men committed to building men through a four-fold development—intellectually, socially/morally, spiritually and physically. In its 116-year history, the fraternity has initiated 30,000 members and installed 52 chapters at major public research universities across North America. The Fraternity maintains a headquarters office in Kansas City, Mo. More information about the fraternity, including its history, educational programming and life-long membership affiliation opportunities is available online at www.farmhouse.org.
###