FarmHouse International Fraternity Welcomes Dave Hansen (Iowa State 90) as Next Chief Executive Officer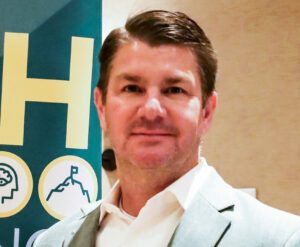 After a rigorous national search, FarmHouse Fraternity International Executive Board of Directors (IEB) is excited to announce the hiring of Dave Hansen (Iowa State 90) as its next Chief Executive Officer (CEO). Led by the Search Committee, key stakeholders, undergraduate members, alumni, Foundation volunteers and association leaders were engaged in the process to assure the best leader was identified for the Fraternity.
Dave brings a unique blend of executive leadership, financial acumen, and business operations management to lead FarmHouse forward. He has strong experience in business operations, consulting and financial leadership roles across a number of industries including human resources, technology, retail, software and facilities. Dave has served as a business unit Chief Financial Officer for both Hewlett Packard Enterprises and CDK Global, two publicly traded, multinational corporations. His most recent position was Vice President of Transformation and Commercial Shared Services for CDK Global. Over the course of Dave's career, he has focused on transforming businesses for maximum customer and financial outcomes by building and enabling great teams. Most importantly, he continues to be grounded and guided by his experience as a FarmHouse member at Iowa State University.

"Dave's ability to carefully listen coupled with his leadership and experience executing a strategic plan through developing a high-performing team aligns very well with the needs of FarmHouse," said Eric Bymaster (Purdue 90), IEB President. "The Search Committee and the IEB recognized Dave as a deeply passionate Fraternity brother with exceptional leadership skills who will support our students, alumni and community – based on our core FarmHouse principles and values."
"I am humbled and honored to have the opportunity to join the FarmHouse leadership team and work toward paying off the debt I owe this organization for being a guiding light in my personal and professional development from my first day stepping onto the Iowa State campus back in 1989," said Dave. "I can't wait to build on the great work current CEO, Christian Wiggins, and others have done on behalf of FarmHouse. It is surreal to be in a position to work with our students and alumni to continue to live the FarmHouse mission, vision and values to the most of our abilities and bring that experience to as many young men as possible."
Dave holds a bachelor's in business administration from Iowa State University with an emphasis in management information systems. Additionally, he has completed an executive leadership program at the Wharton School of Business at the University of Pennsylvania. He currently resides in Crystal Lake, Illinois, about 40 miles from downtown Chicago. Dave lives with his wife, Amy, of 29 years and is blessed with three boys and a girl (Lily, Ryan, Joe and Sam), ranging in age from 17 to 25. In his spare time, he enjoys home DIY projects, reading, outdoor runs and listening to finance and economics podcasts.
The Search Committee, comprised of John Foltz (Ohio State 79), chair; Riley Bergmann (Illinois 19); Brent Bible (Purdue 93); Corby Fichter (Iowa State 78); Bryce Freeman (Iowa State 93); and Steve Robisky (Illinois State 83), evaluated a strong slate of well-qualified candidates.
Kincannon & Reed, a global executive search firm focused on the food and agribusiness sectors, worked closely with the CEO Search Committee throughout the recruitment process. Jon Leafstedt, Managing Partner, and Jared Spader (Missouri 97), Managing Director, led the firm's consulting team.
The Search Committee and Kincannon & Reed ultimately recommended Dave as the next CEO to the Board. The IEB is incredibly grateful to the Search Committee and Kincannon & Reed for their time, effort and insights throughout this process.
The IEB also thanks Christian Wiggins who transitions from the CEO role after nearly six years of dedicated leadership to FarmHouse. Christian's skills, abilities and deep understanding of college campuses, fraternity/sorority life and FarmHouse's ambitions advanced the Fraternity quickly and effectively while developing a team of highly-capable staff. FarmHouse is very grateful to Christian for his dedicated service and leadership over the past six years.
Dave will officially start as CEO April 15, 2023, and will begin meeting with staff, members and other constituents to understand various priorities while refining his 100-day plan to make an immediate impact. You may contact Dave at dave@farmhouse.org. Please join the Search Committee and the IEB in welcoming Dave to the FarmHouse staff!