Farmhouse Headquarters to Move to Downtown Kansas City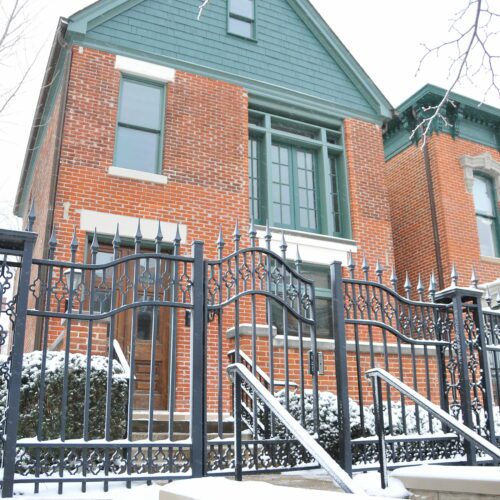 KANSAS CITY, MO. (Feb. 12, 2021) — FarmHouse Fraternity and the FarmHouse Foundation are excited to announce the relocation of their shared headquarters office to 1021 Jefferson St., Kansas City, Mo. 64105, effective March 1, 2021. 
The Fraternity and Foundation will vacate their current headquarters building of nearly 14 years at the end of February. Throughout the week leading up to the move, Feb. 22-26, staff will work remotely. 
As we approached the end of our lease, we recognized the current space had served its purpose, but it was time to look at other options." said Christian Wiggins, CEO of FarmHouse Fraternity. "We spent several months looking at locations in and around Kansas City before settling on this new home for FarmHouse. It's a beautiful, charming home, on the National Register of Historic Places, that has been converted into office space and will be a great fit for our headquarters and staff. As an added benefit, the combined savings over the term of the new lease is $168,000."   
Since moving to Kansas City, Mo. in 1993, the FarmHouse headquarters office has been located in the northland near the Kansas City International Airport. The current building was the headquarters for the Fraternity and Foundation in Suite 210 from 2007 to 2016. Then in 2017, made a move to the building's third floor. 
In the last two decades, FarmHouse's operations have progressed and the current headquarters space provided stability during staffing changes, successful Foundation fundraising campaigns and unprecedented undergraduate membership growth. However, the building has not had major repairs or remodels during the same time. With new ownership and plans underway for increased development in the area, many tenants have or are planning to vacate the property.
"We have enjoyed our multiple headquarters offices and time in the northland of Kansas City, especially the close proximity to the airport," said Allison Rickels, CEO of the FarmHouse Foundation. "Our headquarters offices have grown and evolved over the years, and fortunately, each space has fit our needs at the time. It truly feels like a second home working at our office. We take great pride in the headquarters of FarmHouse as depicted in the colors of the current space, furniture, the historical memorabilia and pictures displayed, and the way our staff cares for it. Our favorite pieces to showcase are the furniture, FarmHouse badge and an oil painting of D. Howard Doane (MO 05), which was donated to the Foundation upon his passing. While we will close the doors of our current office soon, I'm excited about the next chapter in store." 
COVID-19 has provided both challenges and opportunities for the FarmHouse headquarters staff. During the pandemic, many staff members have worked remotely, and seven staff members live and work remotely full-time.The new space provides flexibility to enable staff members to work freely while providing space for remote employees when they spend time working in Kansas City. 
The new headquarters space, located in downtown Kansas City, is a three-story home with the basement, which will provide storage for merchandise, materials and historical files. The staff will have offices and cubicle spaces on both floors, and each floor will have a conference room for meetings and telecommunications with remote employees, volunteers, donors, chapters, associations and other groups. In addition, the downtown location provides an area within walking distance to restaurants, shopping, entertainment options and the Kansas City streetcar. 
"We're looking forward to a new space that meets our needs in an ever-evolving virtual world," said Wiggins. "This space is unique, allowing us to be within one building, but with separate work spaces for each entity, as well as collaborative spaces to enable engagement with a larger number of remote staff and volunteers. We plan to host a formal celebration with the full staff, our International Executive Board, Trustees and area alumni when COVID is no longer a threat."
The historical home was built in the 1880s and restored in 2005 along with four other buildings on its campus, including a Victorian mansion that was known to host many U.S. presidents in the 1900s. Each of these buildings, in a gated complex together, are now used for office spaces, primarily for non-profit organizations, like FarmHouse.
"I'm thrilled about our new headquarters, especially the history, charm and beauty of the building," said Rickels. "Even the exterior doors were already painted dark green, perfectly matching FarmHouse's colors. We have worked with the owners to update and build-out the interior spaces to fit the needs of our staff and be able to display important FarmHouse archives and symbols. Even Daddy Doane's furniture is getting a beautiful facelift. We can't wait to welcome alumni, undergraduates and friends for tours of FarmHouse's headquarters. Our door will always be open."