The Time is Now: Let's Celebrate!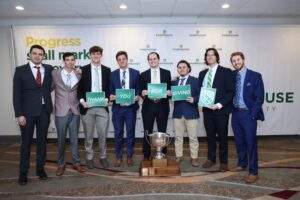 THANK YOU! It's an exciting time for FarmHouse and we are thankful for the unwavering support of 1,011 alumni, parents friends and undergraduates who answered the "Time is Now" call to celebrate, engage and give for 1905 minutes, commemorating the founding of FarmHouse, 118 years ago. We are absolutely thrilled and deeply grateful for their generosity!  
Collectively, donors gave $250,272 to the FH Excellence Fund through the Foundation's new GiveCampus online donation platform and by mail during the month of April. 
During this special fundraising initiative, as FarmHouse brothers and friends joined together, the impact of their giving is a remarkable and resounding vote of confidence in the Fraternity. 
Having the most significant impact on our members, volunteers and chapters, investments in the FH Day of Giving will continue FarmHouse's tradition of providing values-based educational and leadership opportunities through the FH Excellence Fund. It helps today's undergraduates build and develop their skills through the Fraternity's educational initiatives, providing hands-on learning experiences, access to values-based opportunities and essential resources.
Specifically, these FH Excellence Fund gifts are put to use immediately for grants to the International Fraternity for the upcoming To Be and Become: Emerging Talent Retreat, the next FH Leadership Institute, Conclave, the Dyad student research initiative, co-op mentoring program, online new member education platform, and in-person training and coaching by the International Executive Board and Fraternity Staff.
Furthermore, giving strengthens FarmHouse by saving for emerging initiatives, fueling our operations and supporting our talented FH Headquarters staff who put dollars into action to benefit our student members. Ultimately, it helps to ensure the positive FarmHouse experience continues. 
The 2023 FH Day of Giving highlights include:
407 alumni, parent and friend donors

604 undergraduate donors

Donors from 38 states made a gift

Donors from 26 chapters

90 new donors

$305 was the average gift size

Top five alumni donor participation by chapter: Iowa State, Nebraska, South Dakota State, North Dakota State and Minnesota

Nine matching challenges and eight chapter-based challenges

20,643 total impressions on social media, reaching over 10,800 followers

760 individuals shared, liked, commented or watched our FH Day of Giving and Founders' Day videos
Thank you, again, to those members and friends who took time to be a part of this special celebration, made a meaningful gift and connected in the name of FarmHouse! They are shining examples of what it means to be a Builder of Men!