A Strong Match: The Nebraska FarmHouse Chapter Mentoring Program In Action
Isaac Stallbaumer and Steve Gangwish have a few things in common: They share rural backgrounds and hail from small Nebraska communities. They also knew they didn't necessarily want to work in agriculture right after college. They both majored in engineering at the University of Nebraska-Lincoln.
And both pledged FarmHouse.
Stallbaumer (NE '18) knew FarmHouse was for him after meeting the rush chairman and attending a summer rush party. "The FarmHouse guys had more ambition. They seemed like they wanted to do more with their lives."
He admits he wasn't the most social person when he entered college. "Having guys around me forced me to improve my social skills and get out to meet people. They also helped me build my study habits."
Gangwish (NE '04) joined FarmHouse after taking a similar approach to picking a fraternity. He quickly noticed the leadership skills FarmHouse men possessed and the academic excellence they achieved.
"The minute I walked into FarmHouse, I knew I was living the dream and having the time of my life," he recalled.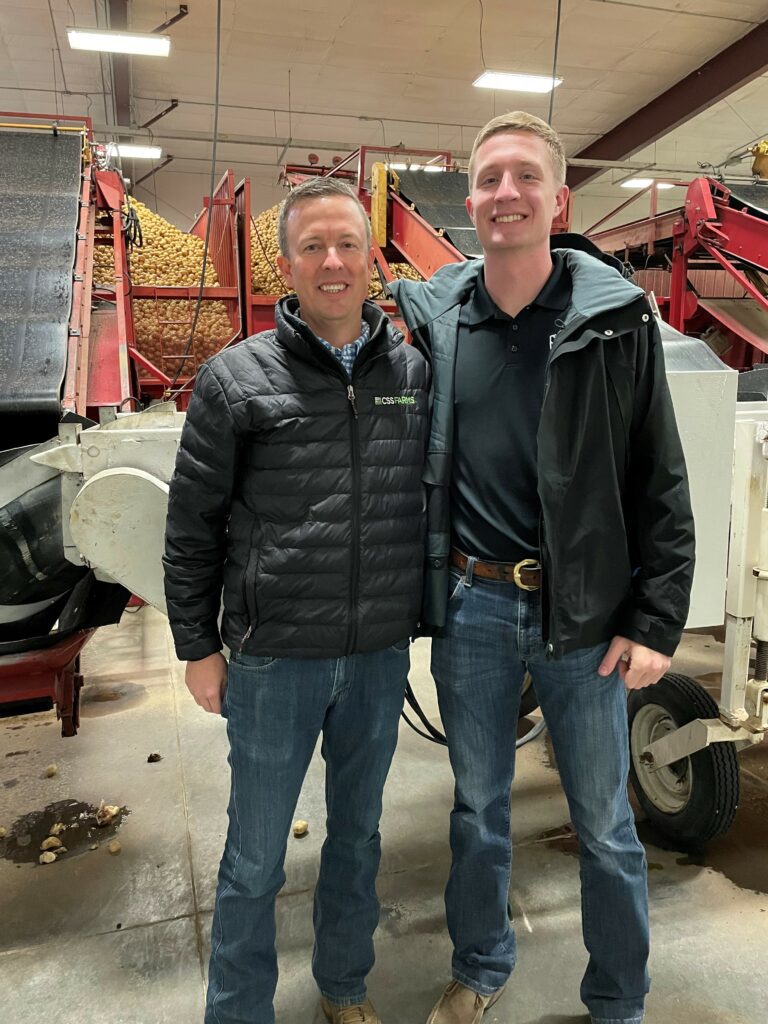 Although their time at FarmHouse came roughly two decades apart, Stallbaumer and Gangwish have something else in common: They were among the first FH actives and alums to be paired in the Nebraska FH Alumni Mentorship Program. The two said they have enjoyed getting to know each other and have become friends – to go along with being FarmHouse brothers.
The program, established in 2021 by the FarmHouse Association's Brotherhood Committee, looked to increase alumni involvement with members of the Active Chapter.
"Nebraska FarmHouse is blessed with alumni from throughout the United States who have accomplished and diverse careers. We wanted to establish a mentorship program to match interested undergraduates with interested volunteer alumni mentors," said Steve England (NE '66), association board member and mentor program coordinator.
When looking to match alumni with current members, England said, the committee looked for commonality in career goals, personal interests or similar hometowns. An alumnus doesn't have to live in Nebraska to serve as a mentor. To date, 50 alumni have been matched to serve as mentors for current FarmHouse members.
England shared some comments he has received from
participants:
"I cannot believe the contacts my mentor has given me."
"I have gotten great advice on navigating my application to med school."
"My mentee was so impressive, I have given him a part-time job in our business."
And so it goes.
Stallbaumer and Gangwish have met several times, including Isaac's visit to Steve's farm operations in Kearney, Neb., and Columbus, Neb., and talked on the telephone a half-dozen more times. Stallbaumer said Gangwish helped him navigate the job-seeking process and guided him when he decided which offer to choose.
For his part, Gangwish said older FarmHouse brothers guided him early in his career – and he was happy to do the same for Stallbaumer. "He's a stud. I wish I could hire him to work for us. He's a bright kid with a farming background and the values that go with it. I think he represents what's best at FarmHouse."


A CALL FOR ADDITIONAL MENTORS
The Nebraska FarmHouse Mentoring Program is always looking for Nebraska Chapter alumni who are willing to share their expertise with members of the Active Chapter, said Steve England, program coordinator.
In fact, England said, he expects more Actives to want to be matched with a mentor as the program moves forward. When paired, a mentor and his mentee decide how often they will meet or talk. The match can be as informal or formal as they want and they can decide how they want to communicate with each other, England said.
If you would like more information more information or to volunteer, please email Steve England.