A Fresh Face for the Foundation Staff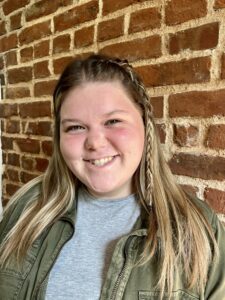 KANSAS CITY, MO – The FarmHouse Foundation has hired Miranda Howe to serve as the Director of Annual Giving. "With Miranda's enthusiasm, passion for Greek Life and philanthropy, education and previous work experiences, she is a great addition to our FarmHouse headquarters team," said Allison Rickels, Executive Director & CEO of the FarmHouse Foundation. "I look forward to Miranda's contributions in this important annual giving role to help create more banner years for the Foundation."
Miranda earned a double bachelor of arts degree in public relations and organizational communication from Northwest Missouri State University (NWMSU) in Maryville, Mo. She graduated in May of 2022.
During her time at NWMSU, Miranda was an active part of Greek Life as a member of Phi Mu sorority. Her junior and senior year were spent as Vice President of Financial Procedures for The Panhellenic Council, where she planned and implemented philanthropy events for all NWMSU sorority women to participate in and to benefit non-profit organizations in the community.
During the summers of 2020 and 2021, Miranda completed internships to gain experience in the fundraising and event planning areas. One of her internships was with Sunflowers to Roses, a charity bike tour to benefit Cancer Action, supporting cancer patients and their families throughout Kansas City. Miranda was the Social Media Coordinator for multiple summers, created content for all social media platforms, was a part of the planning committee, as well as helped with set up on the day of the event. Her other internship with the St. Joseph Mustangs, a collegiate summer wooden bat baseball team, in St. Joseph, Mo. She was a part of the promotions team, where she would prepare, produce and fulfill all game-day promotions. This included games on the field between innings, as well as pre and post-game promotions.
"I knew when I graduated from college I wanted to work in the fields of event planning, fundraising and philanthropy, or public relations. With this position, I don't have to sacrifice a single thing!"
The Director of Annual Giving is responsible for the development and execution of the Foundation's successful annual giving program, the FarmHouse Excellence Fund through well-coordinated communications and solicitations consisting of direct mail, email, social media, annual FH Day of Giving, Chairman's Club membership, events, phone and personal outreach.
"I have always wanted to work within an organization where I could lead the efforts for fundraising events that lead to a greater good. If I did not receive the scholarships or have the sorority experience I did throughout college, I would not have been able to make the memories, have the opportunities or be the same person I am today. With FarmHouse, I can help give back to the interfraternal community that gave me so much by showcasing our fundraising initiatives and supporting the Fraternity and Foundation in any way I can."
Miranda is from Peculiar, Mo., and now lives in Lee's Summit, Mo., with her two best friends. She joined the FarmHouse Foundation staff on Oct. 3, 2022.
The FarmHouse Foundation is a 501(c)(3) public educational foundation, organized in 1965 as a Trust, to foster high standards of scholarship, character, leadership, and cultural development among undergraduate members of FarmHouse Fraternity, Inc. The Foundation works diligently to cultivate donor passion and support to advance FarmHouse Fraternity's mission and help members achieve excellence. FarmHouse Fraternity was founded in 1905 by a group of like-minded young men at the University of Missouri who had a few important things in common: they were studying agriculture and they were looking for community. Today, FarmHouse has chapters on 38 campuses in North America, with 1,500 undergraduates and 30,000 living alumni.
###