Celebrating 30 Years of the FarmHouse Leadership Institute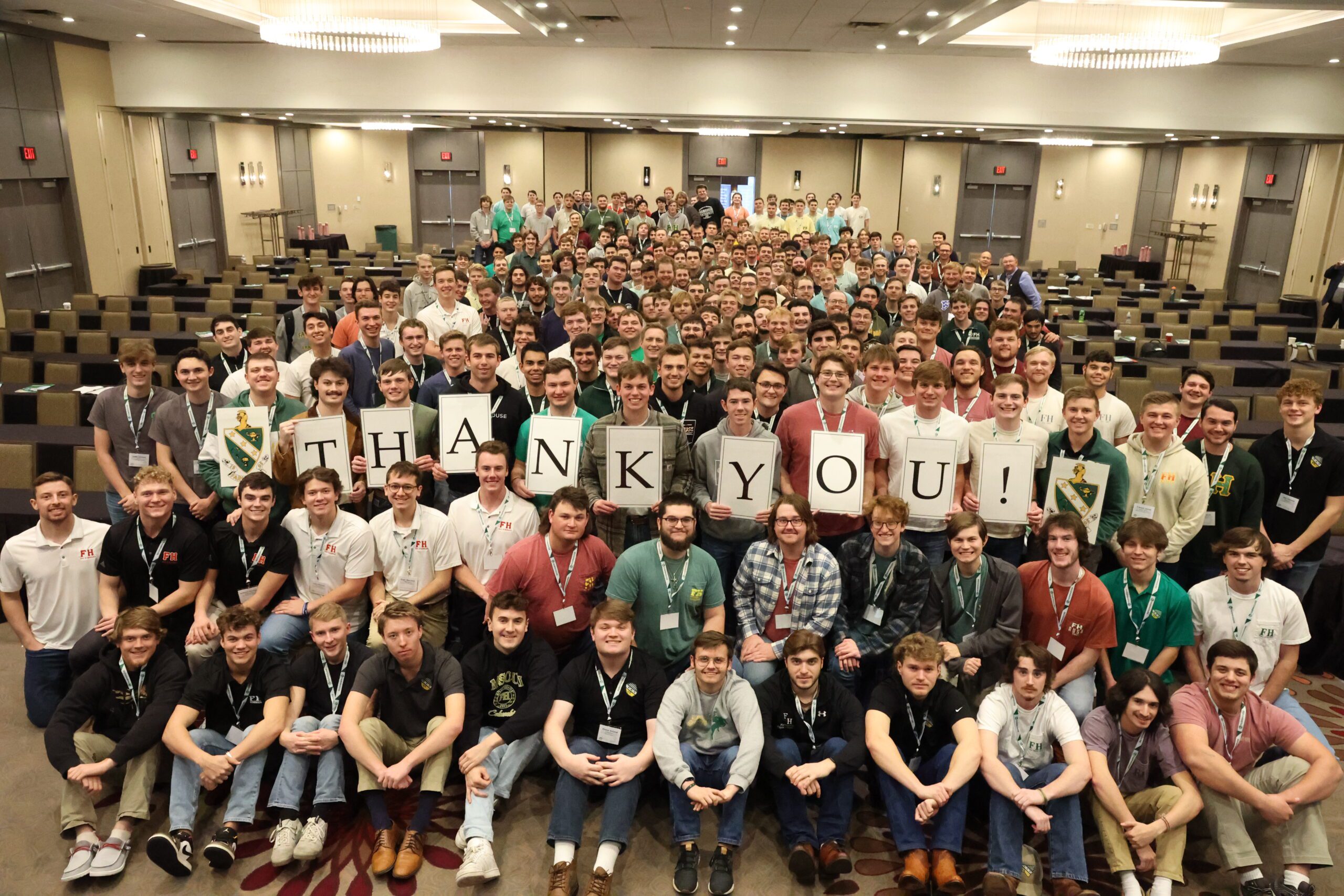 Thirty years ago, FarmHouse took a leap of faith to create the Presidents' Leadership Conference and hoped the first time wouldn't be the last.
Little did the Fraternity's leadership and the 30 inaugural attendees know then what this program would become today. Now known as the FarmHouse Leadership Institute (FLI), this values-based leadership program has educated nearly 3,000 students over its 30-year history, including the newest class of 239 FH chapter leaders.
The Fraternity has improved and built upon the program to make it even better for the next generation of leaders, with the belief you can't educate tomorrow's leaders with yesterday's programs. Since the beginning, this educational program has been fully funded for all student attendees, thanks to the generosity of donors through the FarmHouse Foundation.
Much has changed in 30 years. However, the vision to build resilient and prepared FarmHouse leaders remains.
2023 FLI Recap
This fiscal year, donors to the FarmHouse Foundation made it possible for 239 leaders from 34 chapters and associate chapters to attend the FarmHouse Leadership Institute (FLI), January 5-8, 2023, in St. Louis, Missouri, at no personal cost to the attendees.
Leaders kicked off the new year with comprehensive leadership training, skill building and personal development. Eight key officers per chapter strengthened their chapter's bandwidth to implement positive changes (an increase from seven in 2020 and six in 2019).
Each FLI attendee participated in 18.5 hours of training and learning through a variety of sessions. Keynote speakers, breakout leaders and other facilitators provided knowledge and new insights to our members, enabling them to translate those skills back to their chapters. 
Ryan Laughlin, Assistant Director of Education and Leadership, worked to bring the program back to its roots by refocusing on the values of FarmHouse. Ryan said, "When beginning the planning process, I scoured the 2022 curriculum to see where we missed the mark on our values, it quickly became clear our students want more of a focus on faith and reverence for the Fraternity." 
To fill this gap in programming, the team created new programs including a second faith-based learning lab to accompany the one created last year, a ritual-focused program emphasizing the meaning of 'The Object' and a reinvigorated history program curated by FarmHouse alumnus, Andrew Stockman (Wichita State 17).
The Fraternity's International Executive Board (IEB) had a larger involvement than previous FLIs, with seven of eight IEB members in attendance, each facilitating different tracks. A special thank you to the IEB vice president, Joe Stephens (Missouri 93), who emceed the keynote sessions and facilitated an officer track. As one FarmHouse chapter president said, "It was good to see the IEB in front of everyone and I really enjoyed the effort made to bring prominent FarmHouse men to lead FLI." 
Reflections and Q&A with Amazon Executive
The Institute began with an impressive Q&A session with Brian Huseman (Oklahoma State 91), vice president of policy for Amazon. Brian shared his ladder to success and about his FarmHouse experience, as well as how to have difficult conversations and how to use data to inform decisions. Eric Bymaster (Purdue 90), IEB president, led the session with Brian and finished strong with questions from the audience. 
FLI Curriculum Highlights
Eight specialized officer tracks provided chapter leaders the opportunity to learn from their peers and better understand the essential duties of their new officer role and how to implement these responsibilities;

Learning labs were designed for personal development with attendees participating in four sessions, choosing from 30 topics such as mental health, time management, career planning, personal finance, ethical decision-making, alumni relations and FarmHouse history;

Health and safety education programs for more FH men to be trained on alcohol safety, belonging, and awareness around sexual assault;

Town Hall Q&A session with the IEB about the work they are doing to support chapters and associations and the future of the Fraternity;

Celebration of chapter successes through the FarmHouse awards ceremony, Ruby Cup presentation and installation of new chapter presidents;

Peer-to-peer learning, idea sharing and mentoring throughout officer tracks and learning labs;

FLI concluded with a chapter planning session, in which chapters developed their action plan and set goals for the coming year.
Data Driven Learning 
Attendees were given the first look at the 2022 Dyad student assessment results and were provided highlights by Dr. Gentry McCreary, CEO & managing partner of Dyad Strategies. This enabled officers to learn from and use their chapter's results for a deeper dive into their chapter's collective attitudes and behaviors, which will assist them with goal setting, strengthening belonging, and enhancing and improving the FarmHouse experience.
Overall, the 2022 Dyad assessment had an 84% response rate by FarmHouse undergraduate members. One key finding is FarmHouse members continue to be among the most satisfied with their fraternity experience. FarmHouse has one of the highest satisfaction net promoter scores (NPS) of any fraternity in the benchmark dataset, and is one of only three groups with a score over 45. Research on NPS suggests that any score over 40 is an excellent indication of customer satisfaction.
Planning Ahead
Ryan said, "The follow-up work for FLI will include review of over one hundred survey responses, enabling us to improve our keystone program for future generations of FarmHouse men." 
Preparations for next year's FLI are already underway, and Ryan is ecstatic to hear new perspectives on the program from the Fraternity's incoming CEO. 
"I have learned a great deal planning my first FLI and am excited to do it again," said Ryan. "The values of FarmHouse will continue to be front and center for future FarmHouse curriculum."
Donors Make FLI Possible 
Thanks to the generosity of individual donors to the FH Excellence Fund, 40 leadership endowment funds and 18 FarmHouse associations and foundation councils, the FarmHouse Foundation granted over $147,000 to the International Fraternity to fully fund the costs for the 260 students and volunteers who attended FLI. This included their travel, meals, lodging, program development and facilitation. 
Thank you to the donors who invest in young FarmHouse leaders. Their giving is far more than the training these young men received over four days – it is the growth, confidence building and development that will continue as they apply what they learned in their chapters, personal lives and future careers.