2023-24 Scholarship Winners Announced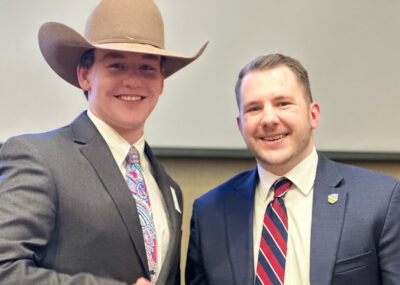 2023-24 SCHOLARSHIP RECIPIENTS ANNOUNCED 
Kansas City, Mo. 
August 14, 2023 
On behalf of the FarmHouse Foundation Trustees and Staff, it is our honor to recognize the following FarmHouse members with a scholarship for the 2023-24 academic year. The recipients were chosen from a competitive pool of applicants. As one scholarship judge said, "I am always amazed at the caliber and leadership qualities of these fine young men."
We are inspired by these outstanding FarmHouse members, commend them for their academic and leadership achievements, and appreciate their time and effort to apply. The 2023-24 academic scholarship recipients include: 
THE FICHTER FAMILY SCHOLARSHIP
($5,000 scholarship)
Grant Allyn (Purdue 20)
EUGENE (Iowa State 47) & LINDA LLOYD SCHOLARSHIP
($3,000 scholarship)
Noah Berning (Purdue 20)
Caleb Kline (Kansas State 21)
Jayden MacDonald (North Dakota State 20)
Jared Mulder (Nebraska 19)
ROBERT A. LONGENBAUGH (Colorado State 54) MEMORIAL SCHOLARSHIP
($2,700 scholarship)
Max Harman (Kansas State 18)
Aaron Klain (North Dakota State 20)
CLAYTON K. YEUTTER (Nebraska 49) SCHOLARSHIP honoring his service as United States Secretary of Agriculture, 1989 to 1991
($2,800 scholarship)
Caleb Stout (Kansas State 20)
DOUGLAS D. (Illinois 65) & NANCY J. SIMS SCHOLARSHIP
($2,500 scholarship)
Carson Horsburgh (Oklahoma State 21)
Simon Kroll (North Dakota State 20)
DANNY WEISZ (Idaho 89) MEMORIAL SCHOLARSHIP
($2,500 scholarship)
Caleb Stout (Kansas State 20)
CHRIS H. (Colorado State 67) & VICKI LEMBCKE MEMORIAL SCHOLARSHIP ($1,500 scholarship)
Peyton Hughes (Oklahoma State 22) 
Abe Scheideman (Iowa State 20)
Cooper Waddell (Oklahoma State 21)
LARRY H. HAGEMAN (Ohio State 94) CROP SCIENCES SCHOLARSHIP
($1,400 scholarship)
Caleb McGregor (South Dakota State 22)
BERT KRANTZ (Michigan State 36) MEMORIAL SCHOLARSHIP
($1,200 scholarship)
Blayne Vandeveer (Purdue 21)
WILLIAM S. (Oklahoma State 38) & CATHERINE MAY SCHOLARSHIPS
($1,100 scholarship)
Brooks Beck (Oklahoma State 22)
Ryker Ewing (Illinois 21)
Caidyn Johnson (Minnesota 22)
Garrett McKeon (Troy 21)
Benjamin Roth (Kansas State 20)
Palmer Wright (Nebraska 21)
WAYNE (Kansas State 59) & VIRGINIA GROVER FAMILY SCHOLARSHIP
($1,000 scholarship)
Michael Pliscott (Minnesota 21)
HERBERT G. FOLKEN (Iowa State 28) MEMORIAL SCHOLARSHIP
($475 scholarship)
Hunter Williamette (South Dakota State 20)
DUANE (Iowa State 49) & SHIRLEY ACKER WORK/STUDY SCHOLARSHIP
($425 scholarship)
Hunter Williamette (South Dakota State 20)
We extend our appreciation to Frank Bezdicek (Minnesota 67), Don Ferguson (Kansas State 63), Dennis Liptrap (KY 62), Steven Lonergan (Iowa State 85) and Jeff Muchow (South Dakota State 66) for serving as our scholarship selection committee. 
Please note several other academic scholarships are awarded through the FarmHouse Foundation for members of specific chapters. Check with your chapter president, association, local Foundation Council or contact Allison Rickels for more information regarding scholarships locally selected and awarded.

The 2023-24 International-level scholarships will be announced in spring 2024, and applications will be due June 1, 2024. Again, congratulations to these outstanding 2023-24 FarmHouse scholars!
The FarmHouse Foundation is a 501(c)(3) public educational foundation, organized in 1965 as a Trust, to foster high standards of scholarship, character, leadership, and cultural development among undergraduate members of FarmHouse Fraternity, Inc. The Foundation works diligently to cultivate donor passion and support to advance FarmHouse Fraternity's mission and help members achieve excellence. FarmHouse Fraternity was founded in 1905 by a group of like-minded young men at the University of Missouri who had a few important things in common: they were studying agriculture and they were looking for community. Today, FarmHouse has chapters on 38 campuses in North America, with 1,500 undergraduates and over 30,000 alumni.
###
For More Information Contact:
Allison Rickels, CFRE
Executive Director & CEO
The FarmHouse Foundation
1021 Jefferson Street
Kansas City, MO 64105
Phone: (816) 891-9445
FHHQ@FarmHouse.org
www.farmhouse.org/foundation