2022 Master Builders Announced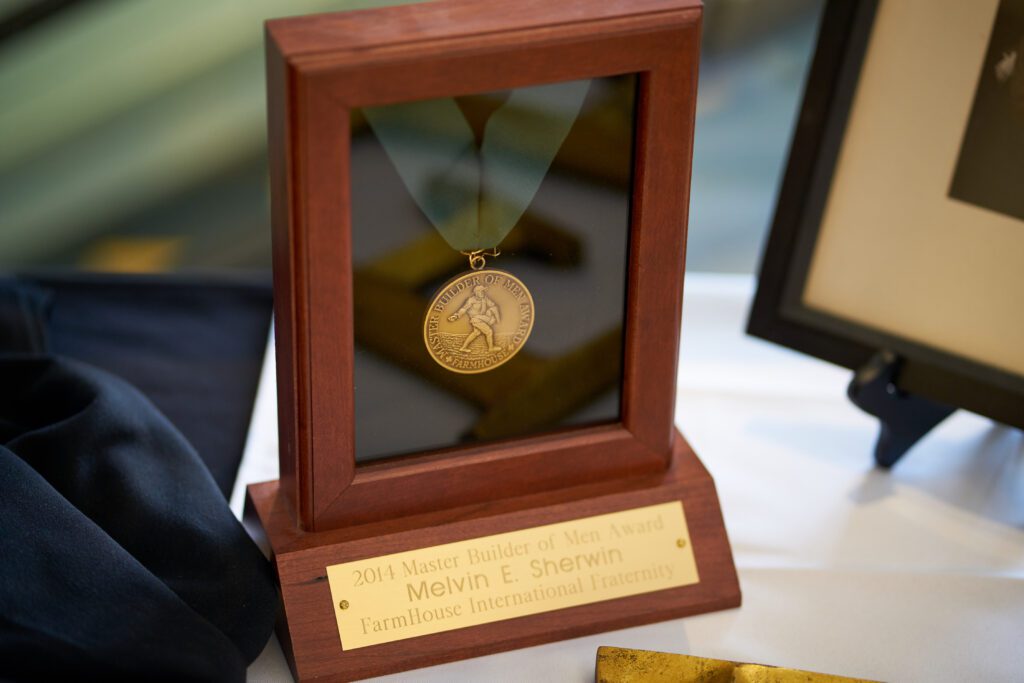 KANSAS CITY, MO. — FarmHouse International Fraternity is pleased to announce the selection of three outstanding alumni members of FarmHouse, who have been selected for the Fraternity's highest honor, the Master Builder of Men Award. They include: Steve Davis (Oklahoma State 77), Ken Dunk (Arkansas 71) and Robert Graham (Mississippi State 69).
The Master Builders will be recognized in person during Conclave 2022, July 21-24, in Oklahoma City, Okla. The Master Builder of Men Award is the highest honor the Fraternity may bestow an alumni member of FarmHouse. The award, created in 1950, recognizes and publicly acknowledges the member's unselfish leadership and service to his fellow men, both within the Fraternity and beyond. Neither position, nor wealth, nor occupation enters into consideration for the award, but simply his contributions in helping others and living the values of the Fraternity as a Builder of Men.
Learn more about each of these men below: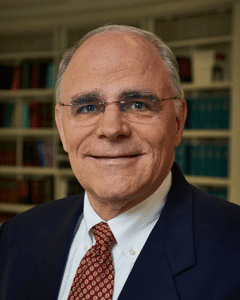 Steve Davis (Oklahoma State 77)
Steve was born and raised on a family beef, dairy and wheat farming operation. He enrolled at Oklahoma State University (OSU) in the fall of 1976 and was initiated into FarmHouse in the spring of 1977. During his time at OSU, he competed on the Livestock Judging team and served as the OSU FarmHouse chapter president.
Following his undergraduate degree, Steve went to law school at the University of Oklahoma, sat for the CPA exam and became a certified public accountant (CPA). He graduated first in his law class, receiving the Order of the Coif, Nathan Scarritt Prize. He has spent the last 39 years working for Hartzog Conger and Cason, focused on business formation, mergers, trusts and estate planning law. 
Steve has received numerous awards throughout his career, including the Best Lawyers of the Year in Oklahoma City in 2011 and 2019; Best Lawyers in America; Oklahoma's Super Lawyers; and in the Chambers USA Guide to America's Leading Lawyers. He is a member of the Oklahoma Bar Association, the American Bar Association, the Oklahoma Society of Certified Public Accountants and American Institute of Certified Public Accountants. Steve has been recognized and is known statewide and nationally as one of the best estate planning and commercial transaction lawyers.
Steve has served his community in numerous ways such as a member of the American Heart Association, Oklahoma Affiliate Board of Directors; on the Oklahoma City Community Foundation Board of Trustees, including as Chairman; and as the former director of Southwest Bancorp.; and as the former Chairman of First Commercial Bank. 
Steve was a key member of the fundraising committee and a major contributor to the new 38,000 square foot FarmHouse chapter facility at Oklahoma State University, which was completed in 2013. He has also been a continuous generous donor to the Power of 7 Seminar held annually to benefit the FH Excellence Fund. Steve is a member of the Cornerstone Society, contributing over $500,000 cumulatively to the FarmHouse Foundation. 
Steve has been married to his wife, Gail, for 37 years, and they reside in Guthrie, Okla. They have four children, Sarah Barbour, Amanda Davis, Caleb Davis (OK 12), Cooper Davis (OK 13), and five grandchildren, Ivy, Nolan, Graham, Tatum and Briar.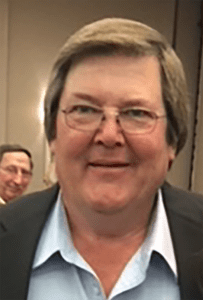 Ken Dunk (Arkansas 71)
Ken Dunk spent more than 40 years of his career in the fire sprinkler suppressant industry. What began as a summer job during college, turned into a blossoming, successful career. His first five years were spent with the same company he worked for while enrolled at the University of Arkansas. 
In 1981, at 29 years old, he started his own fire sprinkler company for commercial construction. During his first eight years, he and his firm completed 80% of the sprinkler systems for Walmart stores in Arkansas, Louisiana, Missouri, Oklahoma, and Texas. He sold this company in 1988 to Tyco and began working as a district manager then regional manager. In 2005, he retired and again started his own business, Dunk Fire and Security. In 2019, he officially retired and his son took over the company.
Ken served for six years as the first sub-contractor of the Association Builders of Arkansas. He received numerous awards and accolades from SimplexGrinnell Company. He also assisted in establishing the Optimist Club in Springdale, Ark., a civic organization.
Ken attended the University of Arkansas after the Dean of the College of Agriculture, Dean Hardy, met Ken during a 4-H Club function in 1971. Ken didn't have a place to stay and Dean Hardy recommended FarmHouse. Many of the young men Ken knew from high school were in FarmHouse so he joined and eventually he became chapter president. Ken says his membership and his experience set him up for a lifetime of success, which is why he chose to get involved in the Arkansas Chapter as an alumnus.
Ken joined the Arkansas FarmHouse Association around 1979 and served for nearly four years. He assisted with the first remodel of the chapter facility including bathroom updates. He was called upon again, when the chapter was closed in 1990, to assist while the facility was leased to another organization until rechartered and a remodel was completed. Then in 2014, he was asked to join the board again and has been serving as association president since. During his tenure, more than $350,000 was raised for much needed chapter facility renovations. Additionally, he helped oversee a $1.5 million loan for their annex and chapter facility remodel, which was completed in 2017.
Most recently, Ken has helped collect more than $36,000 to install new flooring and kitchen equipment, including a $20,000 donation to pay down the principal owed on the existing loan. Countless others have contributed to the success of the chapter, but Ken has spearheaded these efforts time and again. Not only generous with his time, Ken is a member of the FarmHouse Foundation's Doane Club, for accumulative giving of $50,000-$99,999.
Ken and his wife, Rose, live in Elkins, Ark. They have three grown children, Jason, Jessica and Lindsey.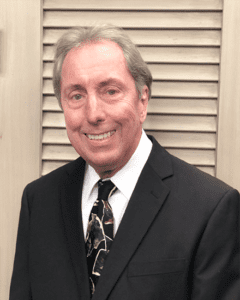 Robert Graham (Mississippi State 69)
Robert Graham lives in Tilden, Ill., in his family's fourth generation farm house.
Upon graduating from Mississippi State University in 1972, Robert returned home. He assisted with his family's quarter horse operation while working for Mr. Hooker, the original owner, at Hooker's Men's Store in Sparta, Ill. He continued to learn how to own and run the business, eventually purchasing the store in 1980. Impressively, Robert has been working for Hookers Men's Store for nearly 50 years.
With Robert's keen business skills, Hooker's has become a regional destination for formal wear. He has provided formal wear for as many as 32 weddings at one time and often does 14 or more proms in a given season. He has been recognized numerous times for being top in sales by Jim's Formal Wear, a tuxedo and formal wear rental service. His store has greeted customers from all 50 states as well as Canada, England, Germany, China and Australia. It is his entrepreneurial spirit and superior service that has allowed him to give back in many ways.
Robert is actively involved in his community teaching Sunday school at his Presbyterian Church, serving on the First National Bank of Sparta board and on the board of the Sparta Community Hospital Foundation. However, he is most active with FarmHouse.
Robert travels between Illinois and Mississippi often. He is well-known amongst the men of his chapter, visiting for athletic events and making a point to meet each new member class. He has received the Daryl Schneider Award from the Mississippi State chapter four times and the Friend of FarmHouse Award from the Southern Illinois chapter. Men across several decades know Robert as "the Legend." He is also present at Conclave, having attended in 1974, 2000 and from 2004 to present. He's often known to help FarmHouse young men purchase their first suit and have FarmHouse members travel across the country to visit him at his store.
Robert has been a guiding light and was instrumental in the chartering and sustained success of the Southern Illinois FarmHouse Chapter. The chapter was established on Dec. 4, 2011, in Carbondale, Ill., which is close to his home and business. He has volunteered by serving on their association board, regularly attending chapter meetings and providing wisdom during Founders' Day and other events. For a younger chapter existing in a region with few alumni, Robert makes a strong impact. 
He is a generous donor to both the Southern Illinois and Mississippi State chapters in his time and talent, but also of his treasures to the FarmHouse Foundation as a member of the Doane Club, for accumulative giving of $50,000-$99,999, and as a regular Chairman's Club donor for the FH Excellence Fund. 
FarmHouse is unlike any other fraternity, even in its name. That's because we're a brotherhood built around more. We achieve good things together, by living values proven to build great men.
Our organization offers unique, lifelong opportunities for our members to better themselves, their communities, and the world.
FarmHouse is a welcoming home away from home, where students can come together and encourage each other, learn from each other, and enjoy fellowship. 
For over a century, this environment has produced lifelong friendships, and remarkable leaders in a variety of industries and public service, with a fraternity experience members can be proud of for life.
###