Jason Butler Joins FarmHouse Staff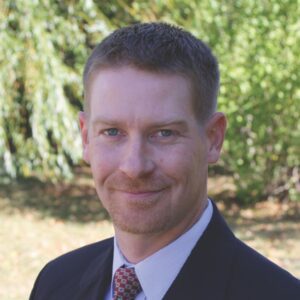 Jason Butler has joined the FarmHouse Foundation's staff as the Director of Leadership Giving. He is starting on a part-time basis, leading the Foundation's major giving fundraising efforts. His focus will be on building a more robust, systematic major gifts program for the Foundation, meeting face-to-face with donors, helping grow the Foundation's planned giving efforts and serving as a key member of the Foundation team.
Jason joins the FarmHouse headquarters team after a 15-year career with Pennington & Company, where he served as a consultant, vice president and partner, and raised more than $50 million for men's and women's fraternities. He led the Foundation division, providing counsel to fraternal foundations in the areas of operations, capital campaigns, staff and volunteer training and prospect research. He has worked with 20 national fraternity and sorority foundations and directed 16 chapter housing campaigns, including most recently assisting the Oklahoma State FarmHouse Chapter with their successful debt retirement campaign.
"Jason and I have been colleagues and friends for 15 years," said Allison Rickels, Executive Director& CEO of the FarmHouse Foundation. "Jason has long been a well-known leader in our fraternal foundation industry. We served on the Foundation for Fraternal Excellence Board together for 4 years and have attended numerous interfraternal conferences together in the last decade. I am excited to add Jason to our team and he will be an outstanding addition for his talent, energy and passion for a positive fraternity experience. He's met a number of FarmHouse alumni already with his work for Pennington & Co., and I know he will hit the ground running. We are fortunate he will share his fundraising expertise, donor-focused attitude and outstanding professionalism with FarmHouse moving forward."
Jason is a graduate of Central Missouri State University (now University of Central Missouri) with a degree in public relations with political science and marketing minors. Prior to joining the consulting staff at Pennington & Company, Jason worked for his alma mater in their alumni association and served Delta Chi Fraternity as a leadership consultant and Director of Chapter Services. Jason resides in the Lawrence, Kansas, area and serves Delta Chi on their Foundation Board. He is a past national board member for his fraternity and a past volunteer at the chapter level as an alumni advisory board member. Jason is a board member of the Foundation for Fraternal Excellence (FFE) and serves as Vice President.